Go anywhere that isn't a retirement home and announce Wilt Chamberlain as the greatest player of all time. Or try to announce Bill Russell as the greatest winner of all time. Either will be met with arguments about how small and feeble their competition was; how their dominance came as a result of their "ahead of their time" bodies and athleticism, not due to their talent and instinct.
Nate Thurmond and Kareem Abdul-Jabbar, two short guys Wilt faced. (Via. tumblr)
In order to truly understand and compare player heights, you must first look at how players are measured. Since about the 1980's, heights have been exaggerated by agents and players in an attempt to help their draft stock. Draftexpress.com explains:
Players and various people who worked for teams had been complaining for years about barefoot measurements. Larry Johnson, the #1 overall pick in 1991 expressed his thoughts on the measurements after he came in an inch and a half below his listed height of 6'7". "Ain't that pitiful?" Johnson said. "You don't go out there with your shoes off. Ain't that right?"
In this case, Larry Johnson being a 6'5 ½" power forward didn't hurt his stock, because he was in a weaker draft, but many times measurements can really help or hurt a player's position in the draft. Jerry Krause used the same logic in 1992, saying "I've never seen a young man yet play basketball in his stocking feet." That was after power forward
Byron Houston who was listed 6'7" in college measured 6'4".
This means that somebody like Bill Russell, who is measured at 6'9 barefoot, would be measured between 6'10" and 6'11" had he played in a later era.
With that in mind, take a look at Chamberlain's 1967 season, his first championship season. Chamberlain had one of the greatest seasons in league history with 24 points on 68 percent shooting, 24 rebounds, and eight assists per game.
His first game that season brought the New York Knicks to Philadelphia. The Knicks lineup consisted of 6'11" center Walt Bellamy and 6'9" power forward Willis Reed. With a smaller league, the New York Knicks and the Philadelphia 76ers would meet nine times throughout the season.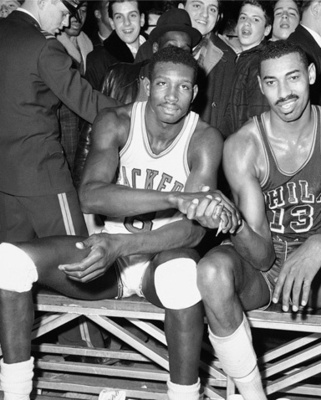 Walt Bellamy and Wilt Chamberlain (Via. Bleacher Report)
One game later, the 76ers faced the Baltimore Bullets for two games. The Bullets' front line consisted of 6'10" center Leroy Ellis, 7-foot center Mel Counts, and 6'8" power forward Wayne
Hightower. The 76ers would face them nine times that season.
The seventh game of the 76ers season was in San Francisco against the San Francisco Warriors. The 76ers were met by 6'11" center Nate Thurmond and 6'8" power forward Fred Hetzel. They would meet nine times.
This trend held up throughout the season, with the shortest team being the St. Louis Hawks, who had two 6'9" centers as the tallest on their roster. However, if they measured the same way athletes are measured today, both would measure at around 6'10" or 6'11".
The 1960's were some of the greatest times in basketball, however it doesn't always get the respect it deserves by the modern fan due to unfounded myths surrounding it. Perhaps it's time to appreciate those players for who they were, great players.
Follow @BeatsDimesDrive on Twitter
Like Beats Dimes and Drives on Faceb

ook